From cautious beginnings…
In November 2001, a group of committed practitioners with a long history of dealing with dental problems in horses gathered together in the German city of Gelsenkirchen.
They were unanimous in their view that the situation with regard to equine dentistry was sorely lacking in Germany. They decided to found a society that would look for ways and means to produce an adequate supply of competent equine dental specialists in the long term. A second get-together at the same venue was scheduled for December 2001. Their tasks before then were to determine the right legal form for such a society and to prepare a draft set of its articles of association.
On 23 December 2001, just a month after the initial plan was decided, the German society that aims to provide better dental health for horses was founded in Gelsenkirchen. Following lengthy discussions, the twelve founders had agreed on a name (Internationale Gesellschaft zur Funktionsverbesserung der Pferdezähne, abbreviated to IGFP) and finalised the articles of association. Under the umbrella of the IGFP, veterinarians and non-veterinarians alike could now work together towards its noble goals.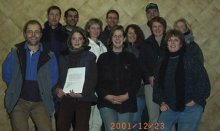 Founding members (from left to right):
Front row: Dr.med.dent. Christian Jansen, Antrin Fricke, vet Claudia Pequin, Marion Eltze(-Geisler)
Middle row: vet Brigitte Krafft, Rabea Neubaum, Doro Balke, Enken Nohl
Back row: Dr.med.vet. Axel Soulier, Louis Pequin, Falk-Dietrich Kaulbarsch, Robert Winkelmann
First general meeting
After a third meeting, the IGFP's first as an association, in Gelsenkirchen on 23 February 2002 and a few tweaks to the articles of association, nothing more stood in the way of registering the IGFP with the district court.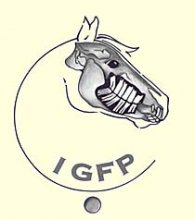 At the next general meeting on 24 November 2002, members agreed on the Rules of Procedure and the fee schedule.
The draft articles of association were unanimously adopted, the membership subscriptions were set and the logo shown opposite was chosen.
By this point the IGFP had also been registered as an association with the district court in Gelsenkirchen. Now we could get down to some meaningful work.